Our house is located in a single location with unobstructed panoramic views of the southwest Peloponnese, in an evolving, emerging region.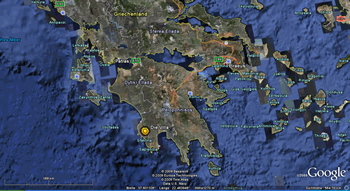 100 m above sea level
with a magnificent view over the sea and the countryside surrounded by evergreen olive groves.
In the east are green valleys and mountains with magnificent sun – and moonrises.
In the south, the bay and the port of Pilos with the marina and the Lagoon of Gialova – the nature reserve
"Natura 2000".
In the west, the Ionian Sea up to the horizon, the new golf course "Navarino Dunes" and glorious sunsets to dream and linger.
In the north, the little old village "Korifasio", approximately 600 m distance, where you get everything you need for daily living needs.